Photography and video by Isabel Avellan, Rob Venga, Lung Liu.
---
We are proud to present our new production MetamorphoSex!
Coming to Black Rock City 2019
Directed and choreographed by Elizabeth Castaneda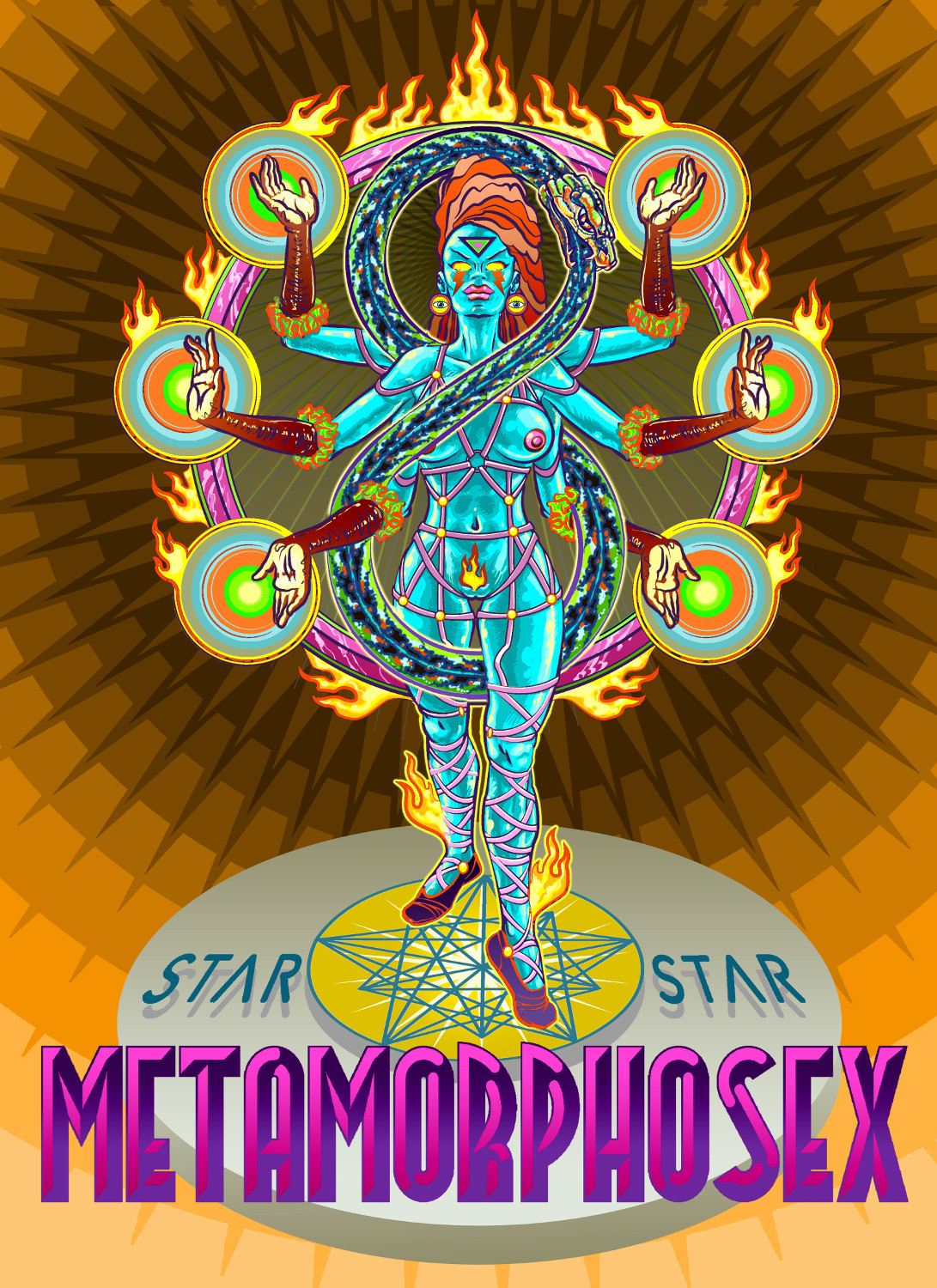 Art Credit by Leighton Kelly.
Wednesday thru Friday of the Burn! Our doors open at 8pm, and the show starts at 9pm. After the performance our house band The Hairfarmers take the stage with live Rock and Roll.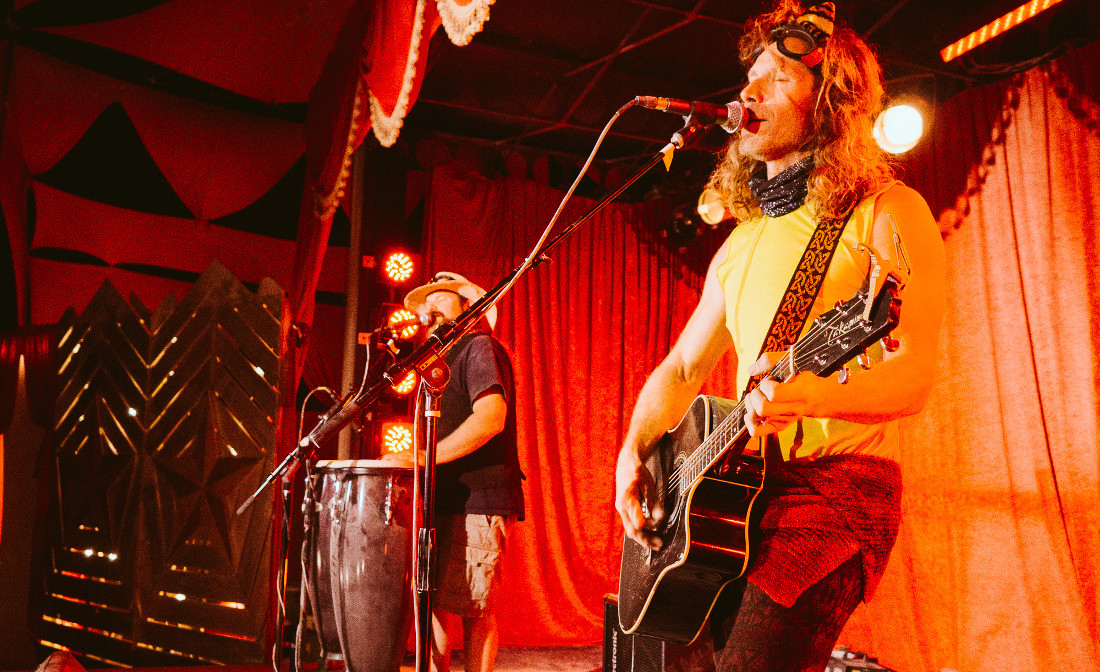 Photo by Rob Venga.
Have a taste of our show Body Of Light 2018
---
Map
Soon our new location on the playa!
---
Venue Schedule 2019
| Event | Description | Start Time / End Time |
| --- | --- | --- |
| Radiant Yoga | Set the VIBE, come get your YOGA on! Elongate the BREATH. Deep, long postures with PRECISE consensual assists. ASHTANGA inspired. | 9:00 AM / 10:00 AM |
| Body Resonance | BUTOH inspired ELEMENTARY exercises and active meditation for the entire BODY. Learn to RESPOND completely. | 11:00 AM / 12:00 PM |
| Capoeria workshop and Roda | Captivating Brazilian MARTIAL ART combines elements of martial arts and DANCE. ALL LEVELS welcome. | 1:00 PM / 2:00 PM |
| Sonya Sophia EFT: Soulshine | Become more beautiful inside & out, as you refine your radiance. Remove inner scars, release wrinkles of rage, detox self-doubt. Guaranteed to enhance how you show up. | 2:00 PM / 4:00 PM |
| Event | Description | Start Time / End Time |
| --- | --- | --- |
| Radiant Yoga | Set the VIBE, come get your YOGA on! Elongate the BREATH. Deep, long postures with PRECISE consensual assists. ASHTANGA inspired. | 9:00 AM / 10:00 AM |
| The Lioness' Den | WOMEN'S sexual EMPOWERMENT. Join Rose Breedlove & Lena Ozea. Breath work, yoga & DANCE! EMBRACE your inner LIONESS & surrender. | 11:00 AM / 12:00 PM |
| SYSTEMA: Russian Martial Arts | Breathe, massage, and SELF DEFENSE. Ancient orthodox lineage meets modern applications and functionality. Massage, walk on, and strike your friends! | 1:00 PM / 2:00 PM |
| Sonya Sophia EFT: Sexual Freedom | Honor your turn on and get good with your sexual expression. Tap out triggers, fears and shame. Leave more at peace, open and naturally in love with your sexual self. | 2:00 PM / 4:00 PM |
| Star Star Circus Spectacular: MetamorphoSex | Join us on our mind-bending, gender-blending CIRCUS DANCE escapade into the FUTURIST female, a campy ROMP through penetrating themes! VISION, SEXUALITY, EXPRESSION. | 9:00 PM / 10:00 PM |
| The Hairfarmers: Live Rock and Roll | Do ROCK right! ROCK & ROLL all your chakras with legendary aprés ski band The Hairfarmers from Whistler! After the "MetamorphoSEX" circus spectacular. | 10:00 PM / 11:00 PM |
| Event | Description | Start Time / End Time |
| --- | --- | --- |
| Radiant Yoga | Set the VIBE, come get your YOGA on! Elongate the BREATH. Deep, long postures with PRECISE consensual assists. ASHTANGA inspired. | 9:00 AM / 10:00 AM |
| Intermediate Ballet Class | Come get your plée on! Offering a full BALLET class to classical music on our stage. Please join us. Let's DANCE! | 12:00 PM / 1:00 PM |
| Capoeria Workshop and Roda | Captivating Brazilian MARTIAL ART combines elements of martial arts and DANCE. ALL LEVELS welcome. | 1:00 PM / 2:00 PM |
| Sonya Sophia EFT: Make Love | Make love, not war. Transform relationship residue so you can give love profoundly. Practice receiving love without flinching & become more authentically intimate. | 2:00 PM / 4:00 PM |
| Star Star Circus Spectacular: MetamorphoSex | Join us on our mind-bending, gender-blending CIRCUS DANCE escapade into the FUTURIST female, a campy ROMP through penetrating themes! VISION, SEXUALITY, EXPRESSION. | 9:00 PM / 10:00 PM |
| The Hairfarmers: Live Rock and Roll | Do ROCK right! ROCK & ROLL all your chakras with legendary aprés ski band The Hairfarmers from Whistler! After the "MetamorphoSEX" circus spectacular. | 10:00 PM / 11:00 PM |
| Event | Description | Start Time / End Time |
| --- | --- | --- |
| Radiant Yoga | Set the VIBE, come get your YOGA on! Elongate the BREATH. Deep, long postures with PRECISE consensual assists. ASHTANGA inspired. | 9:00 AM / 10:00 AM |
| Comedic Lap Dance Choreography | Pair FUNNY with SEXY. Learn from the creator of "So You Think You Can Lap DANCE?" GRIND like Martha Graham on a lap! Partner/solo friendly | 1:00 PM / 2:00 PM |
| Sonya Sophia EFT: Cause and Create Reality | Design by vibration as you practice shaping reality through aligning body, mind and emotion. Take home a powerful way of manifesting money, love, and opportunity. | 2:00 PM / 4:00 PM |
| Twerkshop | Run the TWERK with Effies Qweendom! Shake off the shame, TRANSFORM repressed sexual energy into EMPOWERED self expression. | 4:00 PM / 5:00 PM |
| Star Star Circus Spectacular: MetamorphoSex | Join us on our mind-bending, gender-blending CIRCUS DANCE escapade into the FUTURIST female, a campy ROMP through penetrating themes! VISION, SEXUALITY, EXPRESSION. | 9:00 PM / 10:00 PM |
| The Hairfarmers: Live Rock and Roll | Do ROCK right! ROCK & ROLL all your chakras with legendary aprés ski band The Hairfarmers from Whistler! After the "MetamorphoSEX" circus spectacular. | 10:00 PM / 11:00 PM |
| Event | Description | Start Time / End Time |
| --- | --- | --- |
| Radiant Yoga | Set the VIBE, come get your YOGA on! Elongate the BREATH. Deep, long postures with PRECISE consensual assists. ASHTANGA inspired. | 9:00 AM / 10:00 AM |
| The PlayaPops Symphony Orchestra. 6th season | Behold The Playa)(Pops Symphony in the dust! CLASSICAL & popular favorites to ENCHANT. Beethoven, Shostakovitch, J Williams & J Lennon. | 10:30 AM / 11:30 AM |
| KIDS' Lemonade Dance Party | Come shake it with your little's at our FAMILY DANCE party! Groove to your favorite tunes old and new. LEMONADE and gluten-free COOKIES! | 12:00 PM / 1:30 PM |
| Sonya Sophia EFT: Divine Purpose | The world needs your gifts. Explore your reason for being & activate your true purpose. Clear out confusion & dismantle doubt. Leave inspired & on fire to bring it! | 2:00 PM / 4:00 PM |
---